Whitman's women's soccer team has opened their season with a bang after achieving a quick succession of wins. The first victory was at home on Sept. 4 with a 2-0 win against Doane University. Junior Chaney Heinbaugh placed the Blues ahead in the 43rd minute, while sophomore Molly Beaulieu doubled their lead in the 86th minute.
The Blues set up in a 4-3-3 formation, with the midfielders positioned in a triangle; senior Elizabeth Williams, as the attacking midfielder, operated as the focal point of their offense. Few starters played the entire 90 minutes, as head coach Michelle Voiland opted to use her entire squad, including all three goalkeepers. Beyond the opening minutes — wherein a scramble inside Whitman's own box required a pair of saves by junior Hanna Lynch — Doane failed to pose a threat, taking most of their shots from outside the box.
Whitman had the greater share of possession, and while clear-cut chances were infrequent, they managed to capitalize when it mattered. With three minutes remaining before the half time whistle, senior and right-back Kayla Gustafson delivered a soaring cross, converted by Heinbaugh, the Blues' winger, with inch-perfect precision. Heinbaugh had snuck past her defender with a run inside, allowing her to meet Gustafson's cross with ample space and time to calmly slot the ball past the keeper.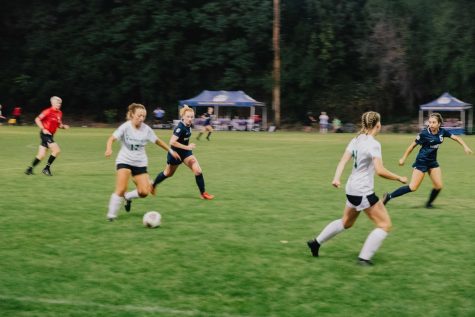 The second half progressed relatively quietly, as Whitman sought to extend their lead and place the game out of reach. The match seemed destined to end 1-0 until the final minutes when Beaulieu, from well outside the box, launched a screamer into the upper-left corner of the goal. That shot gave Whitman its insurance lead, sealing the deal for a season-opening win.
Heinbaugh and Beaulieu, the two goal-scorers, spoke about their performances. Heinbaugh expressed her simple, yet effective, aim when discussing what she focuses on in her position.
"Goals, just trying to get those goals," Heinbaugh said.
Heinbaugh is also excited to see how the team continues to work together as they enter into the conference season.
"It's really heartening to see the team's hard work and dedication finally coming to fruition," Heinbaugh said. "It's our hope to keep the wins going so that we can carry this momentum into our conference."
The success of the team can be credited to the teamwork and skills each player brings to the field. Beaulieu, in particular, had a personal goal going into the match.
"I try to redistribute [the ball] and just be a really solid player in the midfield," Beaulieu said.
In regards to her astounding goal, Voiland claimed that Beaulieu must have been at least 30 yards out.
Starting off strong was imperative for the women's soccer team, as they're coming into this season looking to overturn a couple of lackluster years. The COVID-19–shortened 2020 season saw the team finish without a goal, or a win, in seven matches. Last year, they fared slightly better: out of a total of 19 matches, they won two and drew two.
Coach Voiland, reflecting on their win, praised her team's passing.
"The ball was moving in and out of our midfield, up to our forwards; a lot of great, great movement," Coach Voiland said.
As for last year's struggles, she cited the inexperience of her squad, as many minutes were played by first-years and sophomores. That being said, she characterized this as an advantage for this season, as her players have had time to grow together.
The team played their second game of the year the following day, on Sept. 5, against The Evergreen State College. First-year Ella Johnson scored, and the Blues kept another clean sheet to triumph 1-0. Then on Sept. 9, Whitman beat Hamline University with another 1-0 final score, as sophomore Paige Nelson netted the winning goal.
Source: Whitman Wire