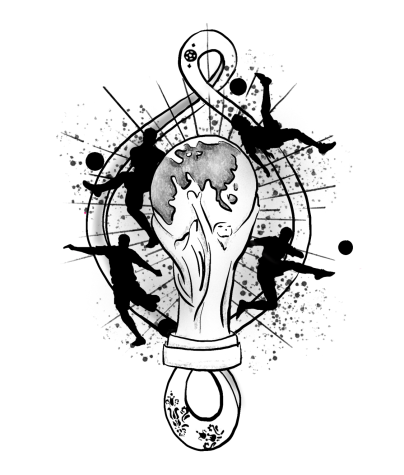 Talk about the Federation Internationale de Football Association (FIFA) World Cup has been buzzing around campus and every corner of the world lately. Football itself is not the only reason for this chatter. The 2022 World Cup has faced political backlash, in part, because it is being held in Qatar. 
Much of these political discussions have been surrounded by concerns about the alcohol bans, the anti-LGBTQIA+ policies in Qatar and the poor labor practices that were present when building facilities for the World Cup. 
An integral part of the World Cup is that it is open to everyone. Football is the most popular sport in the world, and ensuring that everyone feels welcome to tune in is a central part of the sport. In Qatar, freedom of expression is limited and homosexuality is considered a crime. Because of this, FIFA and Qatar have been criticized around the world. 
Senior Andrew Casterella believes FIFA is partially to blame for the controversy over the World Cup host country.
"When it comes to all of these problems, I blame FIFA mostly. They also gave the tournament to Russia. [FIFA] says the tournament is meant to accept everyone, so they have a duty to have it in countries which will abide by those standards," Casterella said.
Women's Soccer Head Coach Michelle Voiland sees these political issues a little differently. Voiland believes the World Cup puts an international spotlight on political issues occurring in smaller countries that might not have been reflected upon otherwise.
"The thing about the World Cup is anytime you bring all of the nations together, you're also going to bring the problems that we face in the world," Voiland said. "When you talk about Qatar, because the world comes together, it does put a whole spotlight on the host nation [and] on the politics of individual countries; it actually brings out these conversations."
A recent human rights report by the State Department has cited illegal and ongoing forced labor in Qatar and stated that construction at "FIFA World Cup-related facilities continued despite crowded worksites and the high risk of COVID-19 transmission." 
Sophomore Franko Omair argues that there is a double standard for Middle Eastern and smaller countries when it comes to human rights issues, as similar issues present in larger Westernized countries are not always as visible.
"I am by no means defending Qatar's labor conditions, but I'm calling out Western bigotry, hypocrisy and politicizing the World Cup for hatred and Islamophobia and their demands to change the culture to fit them," Omair said.
Despite contentious political issues, the World Cup has no lack of supporters. Casterella identifies himself as one of these supporters, yet he still demands accountability from FIFA and organizers.
"[The World Cup] is an opportunity to come together and to just have a good time. It's almost like a universal language," Casterella said. "I think that it's an event that is important and should be preserved, but obviously I think that it's been very mismanaged over the past 30 years or so."
Voiland finds similar appreciation for international unity when the world tunes into the World Cup.
"There's something special about coming together as a national team and how it brings people together through sport," Voiland said. "It's a really special event in that it brings people together from all sorts of socioeconomic groups, from different walks of life. It's just this grand way to celebrate."
Source: Whitman Wire