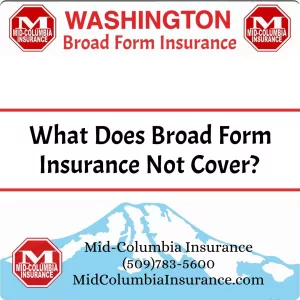 Before purchasing a broad form car insurance policy, it's important to understand what is and isn't covered. By knowing these facts, you can ensure that you have the right coverage for your needs.
Additional Drivers Are Not Covered
Other drivers are not included in the coverage provided by a broad form insurance policy. If someone else is driving your car and causes an accident, they will not be protected by the policy, and you may be held responsible. Therefore, if you allow others to drive your cars, you need to purchase a standard auto insurance policy.
Motorcycles, Motor Homes, Moving Vans, and Large Rigs Are Not Covered
A broad form car insurance policy does not provide coverage for driving motorcycles, motor homes, moving vans, or rigs larger than 1 ton since it only covers regular passenger-type cars and pickups for personal use. This means that while you operate any of these types of vehicles, you will not be protected by your insurance policy.
Broad Form Motorcycle Insurance Policies provide coverage while driving any and all motorcycles you own or borrow.
Business and Commercial Vehicle Use Are Not Covered
Driving for Uber, Lyft, DoorDash, and UberEats, as well as doing pizza delivery and newspaper delivery, are considered commercial or business use of your vehicle and are therefore not covered by a broad form insurance policy (and most standard policies). These activities involve the delivery of goods or services in exchange for payment, which is not the purpose for which personal insurance policies are designed.
Some insurance providers can add an endorsement to a traditional car insurance policy to cover app-based transportation network drivers, but that endorsement is unavailable on broad form policies. Drivers participating in these activities should talk to their agent to obtain the appropriate policy that specifically covers their business-related activities.
Damage To Your Vehicle Is Not Covered
Because comprehensive and collision coverages are not available on broad form policies, damage to the vehicle you are driving is not covered. This means that if you are involved in an accident, your broad form policy will not pay to fix your can, so unless the other driver's insurance takes responsibility, you will have to pay for any repairs to your vehicle.
Coverage for your vehicle is not available because the insurance company doesn't track the type of rig you are driving or its value, so there is no way to determine an accurate premium for the coverage. If you need "full coverage," a standard car insurance policy is what you need. It can provide comprehensive and collision coverages, ensuring that damage to your vehicle will be covered in the event of an accident.
Specialty Coverages Are Not Covered
Broad form insurance policies do not provide coverage for towing, rental car after an accident, or other ancillary coverages. These coverages can be purchased with a standard car insurance policy but not a broad form policy.
Conclusion
In conclusion, a broad form policy, like a standard policy, only covers you when driving a private passenger car or pickup for personal use and provides liability coverage and optionally uninsured motorist and personal injury protection. But unlike a standard policy, it does not cover additional drivers, damage to your vehicle, or specialty coverages. A standard or commercial car insurance policy is recommended if you require more comprehensive coverage.
Before purchasing any insurance policy, it's important to understand the coverage limitations and ensure that you have the right coverage for your needs.
Mid-Columbia Insurance – Your Trusted Insurance Broker
Call our insurance professionals today at (509)783-5600 or click "Get a Quote" to request a quote on your insurance. At Mid-Columbia Insurance, our goal is to get you the coverage you want at a price you can afford!
Article Source: Mid-Columbia Insurance Agency