Local election candidates and their platforms were introduced at virtual candidate forums. The Walla Walla city council election forum was held on Tuesday, Oct. 5 at 6:30 p.m. and the school district election forum was held on Wednesday, Oct. 6 at 6:30 p.m.
Rick Eskil and Myron Huie are running for city council position one (south ward), Brian Casey and Adam Kirtley are running for city council position two (central ward) and Gustavo Reyna and Rick Phillips are running for position three (at large).
Some of the main issues discussed at the hour and a half long city council forum included housing affordability, parking downtown, balancing the impact of legislation on tourists and locals and managing a budget. There was also an audience Q&A portion of the forum moderated through the Zoom chat function.
Whitman Teaches the Movement, Whitman Debate, DISCO, the Rhetoric Department and Whitman Votes held the Young Voters Town Hall on Thursday, Oct. 14 at 7:00 p.m., a follow-up to the forum held the week before. This event included five of the six candidates running for city council.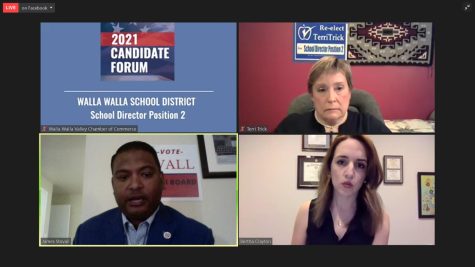 Program coordinator for Whitman Teaches the Movement and co-president of Whitman Votes Merry Cockroft reported an impressive turnout for the town hall watch party, especially in the virtual audience.
She discussed that one of the key moments of the town hall she remembered was about political polarization.
"I think one of the most important discussions between the candidates was regarding political polarization in Walla Walla," Cockroft said. "We have a number of candidates who have received partisan endorsements, something not all of the candidates support."
Súeli Gwiazdowski is a member of Whitman Debate, president and founder of DISCO and a rhetoric major, who worked on the planning committee for the event. She reported that event planning took place over multiple weeks beginning in early September.
She explained that one of her priorities when involved with planning the event was making conversations access-centered.
"With the disability community being a largely disenfranchised group of voters, being part of these event planning conversations felt like the right thing to do," Gwiazdowski said.
One of the candidate discussions that stuck out to Gwiazdowski involved problematic disability justice statements.
"Interestingly, there was some discussion surrounding how great the curb cuts are in downtown Walla Walla—as a wheelchair user who is actually using those curb cuts regularly, I know that they are graded poorly, and I have been thrown out of my wheelchair multiple times while using them," Gwiazdowski said. 
Whitman Teaches the Movement and Whitman Votes has created a website with a young voters guide in advance of the city council election. 
Zana Carver and Kathy Mulkerin are running for school director position one. James Stovall and Terri Trick are running for school director position two.
During the hour-long school director candidate forum, audience-asked questions touched on mask mandates in schools, the candidates' personal experiences as parents and the concept of academic readiness.
An audience question asked the candidates running for school director position one about how their decisions will focus on marginalized groups in the community.
"Making decisions by prioritizing the greatest good for the greatest number of students can create and perpetuate marginalized groups, like students receiving special education services, English-language learners, homeless students, immigrants, transgender and LGBTQ students and others simply because 'they lack the numbers' of people who may benefit. How do you plan to make policy decisions?"
Carver declared that all groups should factor into decision-making.
"Everybody needs that individualized approach," Carver said. "We need to consider all of these groups."
Mulkerin declared that the biggest issue in this realm is access to education. She declared that by being a woman of color, she would bring much needed diversity to the board that has not been seen for a long time.
"We need to make sure that all of the students are seen, not just some," Mulkerin said.
Candidates running for school director position two answered an audience request about mask mandates in schools.
"With the increase in hospitalization of children with the delta variant of COVID-19 in areas where mask mandates are not in place, please state clearly your position for masking students and teachers in school— especially elementary students who cannot yet be vaccinated." 
Candidate Terri Trick responded by stating it is an easy question for her to answer.
"I support vaccine mandates, and I support mask mandates 100 percent, especially for kids for whom there is no vaccine yet," said Trick.
Candidate James Stovall said that he has seen the impact of COVID-19 first-hand as a fire lieutenant and paramedic.
"I really believe kids need to be in school and we need to do everything possible to make sure that happens," said Stovall. "If that means that we need to do mask mandates, let it be."
The general elections will be held on Election Day, Nov. 2, 2021.
Source: Whitman Wire