Tuesday, Nov. 2 marked election day around the country, including here in Walla Walla. Voters were casting their ballot to fill five local positions: city council positions one (south ward), two (central ward), and three (at large), as well as school district positions one and two.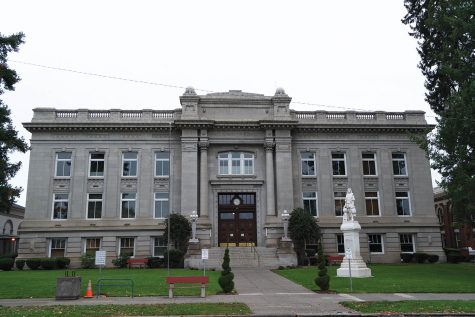 The majority of the ballots have been counted, according to the Union-Bulletin. Since Washington is a mail-in ballot state, voting results are not finalized on election day or even in the days following; with close races, there could be weeks before the results are called.
As The Wire has previously reported, the election for non-partisan city council positions was unusually polarized this year.
This was also the case for the school board elections, as Professor of Politics Susanne Beechey explained in an email to The Wire.
"In recent history many of these races have been unopposed or with minimal campaigning. This year we saw increased interest in the school board races with more yard signs around town, more letters to the editor and some controversies spun up in local social media," Beechey said. "While these are non-partisan positions, the candidates for both school board positions held polarized views around COVID-19 response, equity initiatives, sex education and respect for teachers unions."
As of now, with around 200 ballots to be counted according to County Elections, school board position 2 will be held by incumbent Terri Trick, winning 52.97 percent of votes. In the race for position 1, fewer than 200 votes separate Zana Carver and Kathy Mulkerin, with Mulkerin holding a narrow lead.
"Voting in local elections is super important. Your vote counts a lot more and has a greater impact because there are less votes being counted," first-year and Walla Walla voter Kate Moe said.
The impact of few votes overall is also seen in the city council elections, which have narrow margins as well. Although the races haven't been officially called, they are separated by enough votes that candidates who are ahead are the supposed winners. Rick Eskil leads for position 1, Brian Casey leads for position 2 and Gustavo Reyna leads for position 3. 
These results are significant because they show an overall pattern in Walla Walla elections, according to Beechey.
"The two candidates affiliated with the Common Sense Conservatives lost, in an affirmation of the path the Walla Walla School District Board took through the COVID-19 crisis, as well as ongoing support for teachers, equity initiatives and the state mandated sex education curriculum," Beechey said. "Similarly, the city council races were all contested and all but one of the Common Sense Conservative backed city council candidates lost. This may also signal a leftward shift in the Walla Walla electorate away from its more conservative history, toward a more moderate or 'purple' electorate, but only future elections can confirm this."
Although local elections generally don't garner much attention, they do have a big impact on the lives of citizens.
"Local elections are quite important. School boards have a tremendous effect on the day-to-day workings of local schools. The work of city councils is felt immediately and locally. These are the levels of governance most close to the people," Beechey said.
Voter turnout for this election was, according to Beechey, around what is expected in an off-cycle election—around 33 percent. This is up slightly compared to the last off-year election, but down compared to the 2020 presidential election (84.7 percent) and the 2018 midterms (74.7 percent).
However, Moe emphasized the fact that even without major positions on the table, voting is still important.
"We should be voting in local elections because they directly impact Walla Walla," Moe said.
The final round of ballots will be counted Nov. 22, and results must be certified Nov. 23.
Source: Whitman Wire