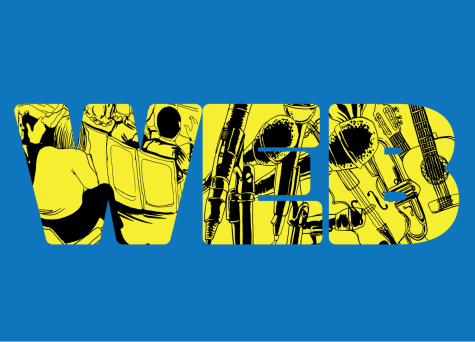 Earlier this month, students settled into the basement of Reid, lounging on the couches and chatting amongst themselves until the lights were dimmed, leaving the audience in quiet anticipation. The Open Mic night on April 8 kicked off with a standup routine and continued as singers, musicians and bands all got their moment in the spotlight.
The recurring Open Mic Night is just one of many events held and organized by the Whitman Events Board, which programs events that are open to all students across campus.
For senior Sarah Little, director of cultural events and lectures, this inclusivity is part of what drew her to apply to WEB and become more than just an attendee.
"When I was a first-year, WEB was the organization that brought people together on the weekends. As someone who didn't have a lot of friends at the start, it was the thing I went to, which I really appreciated," Little said. "It's also a constant at Whitman, it is always an opportunity for people to participate, especially since it serves everyone at school rather than just specific groups."
WEB's resources in planning and funding are critical to hosting successful events on campus, and collaborations between student organizations and WEB allow for students' ideas to come to fruition. For Aziz Sahbazovic, co-director of cultural events and lectures, this collaborative aspect is part of what makes WEB a crucial part of campus life.
"WEB is important to the whole community because it provides entertainment and other fun events but also probably more importantly, it co-sponsors different events on campus organized by clubs, organizations and individuals who usually would not have the access to funds that WEB has," Sahbazovic said.
The emphasis WEB places on inclusion of all students in events shines through in the variety of programming offered. With everything from the Summer in Spring outdoor celebration, to movie nights, to free treats, there is something for every student to enjoy. For WEB Chair Alí Rodríguez, spending time at these events was enough to motivate her to get involved after participating in a cookie decorating event.
"[WEB] provides alternatives to students looking to find fun that's not related to drinking or outdoorsy activities. WEB also aids in the celebrations of different cultures and interests within the Whitman community," Rodríguez said. "We try to cater to all the different groups that exist within the college, and by doing so, we are able to highlight all the talent and special qualities that students and the greater Whitman community have."
Often, when students attend on-campus events, they don't realize the work fellow students have put into them to make them a reality.
"I hope that more people recognize all the work and effort that WEB members put into making all of our events happen. Event planning is not an easy job, especially during this pandemic. However, we have done the best we could with what we had available, and I must say that I am proud of what we accomplished," Sahbazovic said.
By keeping an eye out for WEB's upcoming projects, Whitties can look forward to supporting student-led projects while enjoying a relaxing break from the hustle and bustle of the spring semester.
Source: Whitman Wire