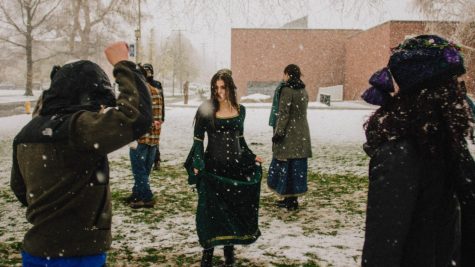 The annual Whitman Renaissance Faire was undeterred by the past weekend's unseasonably cold weather, featuring foam sword fighting, pickles, skits, alchemy and dance lessons.
The Renaissance Faire is one of the oldest traditions at Whitman, although a majority of current students have yet to experience it. The two-year break since the last faire has brought new perspectives and ideas to this year's event.
In addition to wearing Renaissance costumes, having a student-performed skit and teaching dance and martial arts, this year the organizing committee has added a few new ideas. For example, they invited Professor of Chemistry Machelle Hartman to lead an alchemy station, where she turned pennies into gold. 
Although in previous years the club has opened the faire to the Walla Walla community and hosted vendors and entertainers from out of town, this year, because of the pandemic, they chose to limit it to the Whitman community and only have student vendors and entertainers. Sophomore Olivia Wing, one of the members of Renaissance Faire Planning Committee, shared that she is excited to have only student vendors this year.
"I am really excited to see what my classmates have made. I am really excited to see what kind of creativity we have on campus, that's what makes this Renaissance Faire unique," Wing said.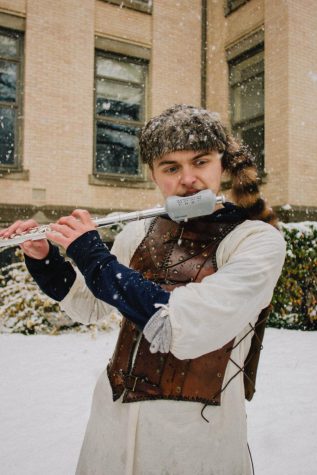 Construction Chair of the Planning Committee, senior Jacob Grisham, said that even though the faire is smaller in scale compared to previous years, he is still excited to finally have the opportunity to do it again. 
"It's silly fun. We don't take ourselves seriously, nothing that we do is that self-serious thing that a lot of people think is gonna happen through the Renaissance Faire," Grisham said.
Grisham added that he thinks that there is always a reason to come to a faire–for example, if one enjoys swords or martial arts, the faire has martial arts demonstrations, a boffing tournament and a skit with sword fighting in it.
"Even if you don't think that it's something you are going to enjoy, there is going to be something that we do that will be silly enough for people to enjoy it," Grisham said. 
Junior Ilse Spiropoulos, who serves as both accessibility chair and fight chair on the committee, explained how the Renaissance Faire Planning Committee wants to give everyone an opportunity to interact and experience little pieces of history. According to her, it especially matters in times like this.
"It is fun just to have a campus life get-together out of chaos. It is a good break from questionable weather and the drudge that can be from spring break to finals," Spiropolous said.
The club members agreed that the Renaissance Faire is an outlet to have fun in a way that one doesn't normally find on a college campus.
"The Renaissance Faire is a great way to let your inner kid out," Wing said. 
Despite the cold and snowy weather, these students allowed themselves to have fun, and the club is hopeful that this joyful tradition will continue for years to come.
Source: Whitman Wire