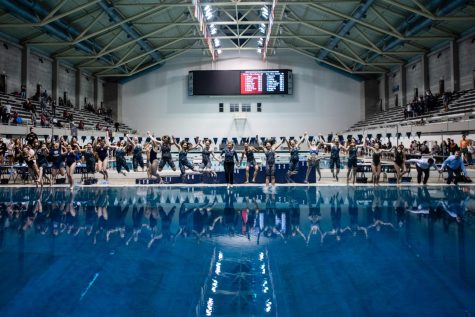 Love was in the air for a different reason over Valentine's Day weekend, as Whitman swimmers hit the pool and took home the win. The women's team placed first at the Northwest Conference with the men's team placing second.
Junior Ella Hill was surprised by the win. Leading up to the conference, the team had won three meets and lost three meets.
"I was so proud of my teammates and all that we have done this year," Hill said. "I wasn't necessarily thinking that we would win given our status. But I trusted our coach and it was awesome. It was such a cool feeling at the end and everyone did such a great job."
First-year John Leeds was particularly excited watching the women's team after a close race to get into the final.
"There was a three-way tie for eighth place, and only eight people get to swim in the top heat," Leeds said. "So it was two of our girls and one girl from Whitworth. They swam to the end of the freeform session, and our team was going crazy for those two girls. And they placed first and second so they got to swim in the A-Final."
As successful as the swimmers were at this year's conference, the last few seasons have suffered due to the ongoing state of the world. It came as a welcome surprise for athletes in this year's season to have a glimpse of normalcy.
"COVID-19 definitely had a huge impact," Hill said in regard to her sophomore year on the team. "A lot of our meets got cancelled, we only had one or two meets the entire season. However, this year, I was very thankful to have almost a full season. We only had two meets cancelled."
Despite this, Leeds was disappointed with the uncertainty that put a shadow over the entire season.
"I think COVID-19 still impacts everything," Leeds said. "It sucks because there were some meets where we had to worry and question if the meet was going to happen or not. It wasn't as bad as it was last year but it is a sad reality of the time we are living in."
It wasn't all doom and gloom. For Senior Michael Chang, the pandemic was a way for the team to build a stronger connection. This was Chang's final season with the Blues, and he was optimistic about what he has taken away from the experience.
"I think it's brought us closer," Chang said when asked about his time with the swim team. "With the pandemic, it's given a sort of sense of gratitude for everybody."
Despite all the hurdles faced by the state of the world, Chang was still happy with his accomplishments during his time with the swim team over his four years at Whitman.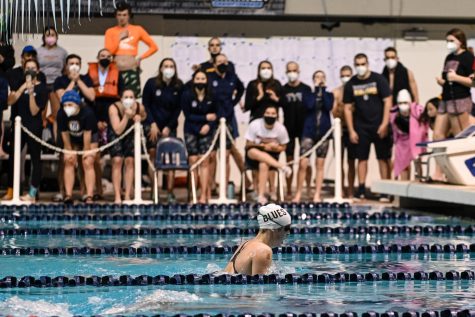 "I think my favorite achievement has been being able to connect to many young people," Chang said. "I remember looking up to all the upperclassmen and thinking, 'Oh my goodness, they are like these powerful beings.' Being in this position now I don't feel like it at all. Being able to positively impact my teammates in any way I can whether being in the pool or outside the pool."
The swimming season has come to an end; however, you can find more action from the Whitman Blues on the Whitman Athletics website.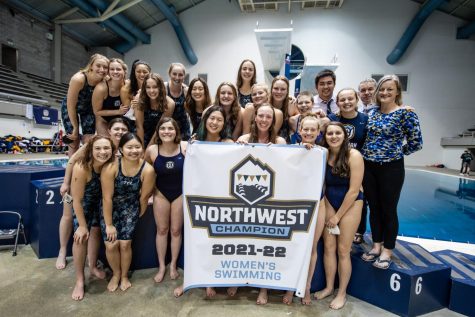 Source: Whitman Wire