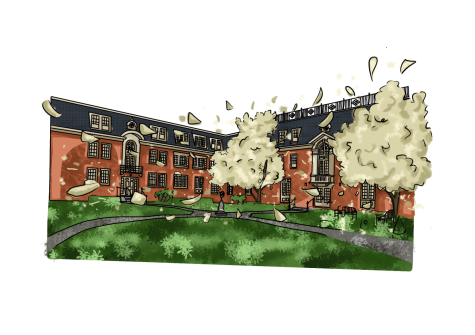 During the two weeks of spring break, the Whitman community had a chance to have a pause from academic life and get some much-needed rest. Some people didn't open their laptop until the end of the break. Some visited family. Others explored the U.S. with friends. And finally, some had a chance to enjoy the quiet Whitman campus and Walla Walla as nature started to bloom.
Marina Balasanyan, class of 2024, spent her spring break visiting Miami and Chicago.
"It was important to me to learn these things about the U.S., because being in Walla Walla can feel a little isolated. The states are so different, but they have personality. So I think I got the experience of actually living in the U.S. rather than living in college in the U.S. I don't feel like Whitman is my entire world, and I am locked up in here," Balasanyan said.
Marina explained how her experience in Miami was different from her time in Chicago. She mentioned how these two cities represent the country from diverse perspectives.
"I have spent a lot of money, got sunburnt and also swam in the ocean for the first time in my life. That made me so happy that I don't regret these sunburns, either. And I loved Chicago, even though it was raining most of the time compared to Miami. It is a really beautiful city and the architecture is so cool," Balasanyan said.
One of the international students who stayed on campus, Mehrimo Bakhtalieva, described her spring break as productive. She has successfully completed the Wilderness First Responder Course, in addition to getting her first job on campus. However, one more interesting detail about her spring break was that she celebrated Persian New Year, Navruz, on March 21.
"I had an opportunity to celebrate it with a Persian community. Professor Bashir Tofangsazi hosted it at his place. He has a lovely family. Everyone was super friendly. I got to try so many kinds of Iranian food, and it was so delicious. I got to talk in Persian, wear my national costume and discuss the culture. That's the memory that will stick with me for a long time, for sure," Bakhtalieva said.
For first-year Sonya Kozlitina, the break was very much needed—even though it didn't feel like an actual break. She was working full time at the post office, which kept her routine going.
"Every day I had to go to work and after that I would go to GAC to cook dinner with my friends. It was really fun, because I finally learned how to cook. Also these two weeks just staying by myself, being completely alone in my room were pretty much needed, because as an introvert I need some space to relax and recharge," Kozlitina said.
Hopefully, spring break was able to recharge the energy of the Whitman community, which will help to get through the rest of the semester smoothly.
Source: Whitman Wire