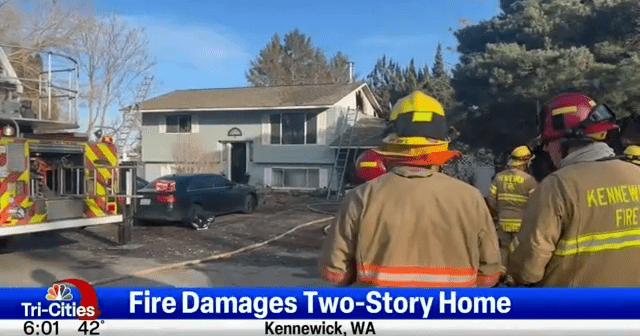 Source: NBC RightNow
KENNEWICK, Wash. — Crews with the Kennewick Fire Department responded to a house fire on Lincoln Street around 1:41 p.m. on December 28 along with Benton County Fire District 1, according to a press release from Fire Chief Chad Michael. 
The first crew was on scene in four minutes, according to the press release. Firefighters reported seeing a lot of smoke and flames from the back of the house. They used water to knock down the main part of the fire. 
As more crews arrived, firefighters went inside to search for anyone and assist in extinguishing the fire. Three people had left the house on their own before crews got there, according to the press release. 
The fire was completely out within 12 minutes of crews' arrival. Chief Michael reports the second floor and attic sustained substantial damage. The home is temporarily uninhabitable, but everyone who lived there has reportedly made arrangements. 
There were no injuries from the fire. The cause is under investigation, according to Michael.
Article Source: Mid-Columbia Insurance Agency