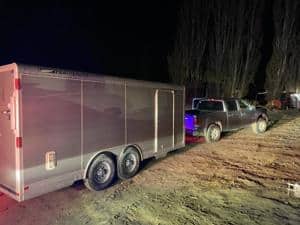 Source: NBC RightNow
FRANKLIN COUNTY, Wash. — The Franklin County Sheriff's Office is asking for victims of thefts across Franklin County from December 2 to come forward now that a suspect is in custody. 
A vehicle stolen in the morning was seen around where another vehicle theft had occurred, according to FCSO. Throughout the day, more cars were stolen, along with tools and more. One of the vehicles was seen driving on Dogwood Road, east of Taylor Flats Road, pulling a trailer that had also been stolen. Police believe the trailer had another vehicle inside. 
The driver pulled into a dead-end road off Sagemoor before being taken into custody. The 52-year-old man from Bonney Lake was booked for possession of a stolen vehicle and possession of stolen property, according to FCSO. 
The Sheriff's Office wants all property returned to its owners. Anyone who has not reported a theft from today or has not had their property returned should contact 509-628-0333.
Article Source: Mid-Columbia Insurance Agency