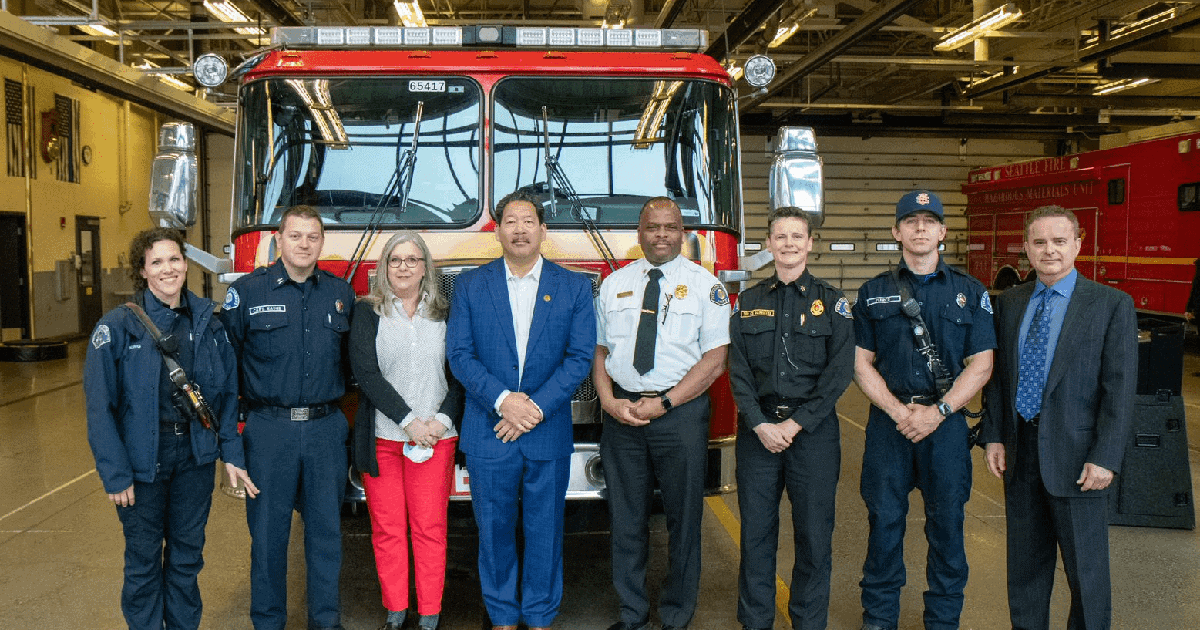 Source: Google News
(The Center Square) – The Seattle Fire Department (SFD) announced that it will become the first in Washington State to earn a Protection Class Rating 1 from the Washington Surveying and Rating Bureau (WSRB).
WSRB conducts an evaluation of protection class for communities every five years. The SFD was previously rated a Protection Class Rating 2 but has made the improvements necessary to qualify for the higher rating. Seattle Fire was evaluated by WSRB for its fire stations, apparatus, equipment, personnel and training.
WSRB is an independent, non-profit public organization that has served Washington State since 1911. SFD is now the first in Washington State to receive a Class Rating 1, joining approximately 460 other fire districts in the nation with a Class Rating 1 beginning July 1 of this year. This will place Seattle Fire in the top 1% of fire departments in the nation. 
The announcement was made on April 14 alongside a press conference at Fire Station 10 near the International District. Speakers included SFD Chief Harold Scoggins, Seattle Mayor Bruce Harrell, Councilmember Lisa Herbold and President and CEO of WSRB, Karl Newman.
Newman talked about how SFD was able to achieve the Protection Class Rating 1 and how it is a historic achievement.
"Seattle Fire has earned the Protection Class 1 Rating by upgrading the ability to put out fires across the city," Newman said. "This is the first and only Protection Class 1 Rating in the history of the state of Washington in more than 100 years of our operation."
Chief Scoggins said receiving a Class 1 rating lets the Seattle community know that their fire department is working hard to stay trained and arrive on scene in a timely-manner.
The top rating comes at a time when SFD is receiving more than 2,500 applicants for entry-level firefighter positions. Mayor Harrell stated that over 40% of applicants are people of color.
When the Seattle City Council gave SFD a budget of around $266 million for 2022, $166,663 of those funds were to be allocated towards diversity recruitment and work culture.
"I don't think we're in need of a hiring bonus or an incentive…I think we're doing ok on the application piece," Scoggins said.
According to the 2022 City Council budget, Seattle fire has "fewer fires than the national average and of other cities with similar population sizes."
Councilmember Herbold says the fact that Seattle Fire achieved the Class 1 Rating amidst a pandemic is quite an achievement. Herbold also said SFD's work also helps the city's economy.
"The Seattle Fire Department's amazing work extends further, potentially saving Seatilites and small businesses money that can go back into our communities," Councilmember Herbold said. "This rating confirms what we've known for years: that the Seattle Fire Department is among the most effective fire departments in the nation."
Article Source: Mid-Columbia Insurance Agency