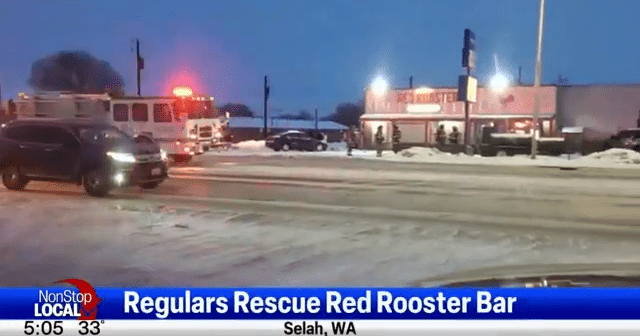 Source: NBC RightNow
SELAH, Wash. – A patio fire broke out at the Red Rooster Bar and Grill in Selah on Saturday night but was held off by a team of employees and customers until the Fire Department arrived.
Owner, Dan Gamache was only five minutes away from his business when his phone rang.
"A customer called me, and said 'hey Dan I think your bar's on fire,'" said Gamache. "I thought he was joking. I said 'no it's not. It's Christmas Eve, we're not gonna play these games.'"
The fireplace on the bar's patio had been overfilled with wood, leading to the wall behind it to begin smoking. A customer leaving the women's restroom first noticed the smell and notified employee Alex Schroeder.
Schroeder was in the kitchen cooking before coming out to assess the damage. It was then that he went back in to grab a fire extinguisher and call the Fire Department. The customers joined in the fight as the room began to fill with smoke.
"It was definitely a team effort from everyone," said Schroeder. "We were all doing stuff. We had people filling water, we had another guy in the back breaking down the wall to access the fire more before it spread into the next room. It was just all hands on."
When Gamache made it to the bar, he could barely see three feet in front of him due to the smoke. He recalls the customers that helped were taking breaks outside the building to breathe due to the amount of smoke. 
Around a dozen customers aided Schroeder and Gamache in fighting the fire even after firefighters took over. Both employees of the bar say that's the type of community the bar has built among each other. 
"Over the last several years, I've owned this place and we've come to realize that our regular customers are extraordinarily…they try to be involved and they love doing everything they can to help the place out whenever needed," said Gamache. 
"This is a family bar," Schroeder said. "Everyone that comes in here, we're all a big family no matter what. Whether it's customers or just working here, we're just a big family."
The Red Rooster was up and running the next day for Christmas after Gamache and his employees spent all night cleaning the store. Damage was mostly limited to the patio as a section of the wall has already been replaced. The interior suffered from smoke damage which was resolved with some cleaning. 
At the end of the day, Gamache praises Schroeder and rewards him with a place to work.
"I thought I was out of a job, to be honest. That was the first thing, try to keep this place from not burning down," said Schroeder.
"He gets a paycheck and a pat on the back," said Gamache.
Article Source: Mid-Columbia Insurance Agency