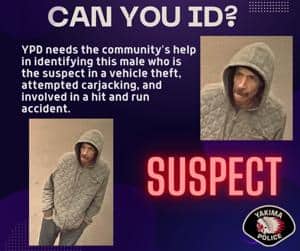 Source: NBC RightNow
YAKIMA, Wash. – The Yakima Police Department is asking for the public's help identifying a suspect in a vehicle theft and attempting carjacking, as well as involvement in a hit-and-run, according to YPD. 
The suspect is considered dangerous. If you see him, do not approach him, instead call 9-1-1. 
Anyone with information regarding the suspect's identity should contact Detective Medina at 509-575-6203 or [email protected]. 
Article Source: Mid-Columbia Insurance Agency