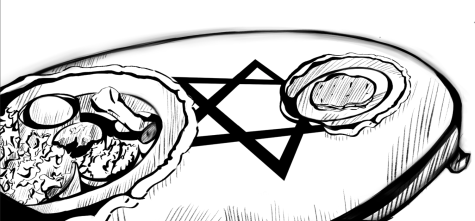 Passover, a major Jewish holiday that celebrates the Israelites' escape from slavery in Egypt, took place this year from April 5 through 13. For many Whitman students, this holiday is a time of community and celebration.
Junior Logan Spinelli and several other members of Whitman's Jewish community were delighted to celebrate this year by attending a large Passover Seder (a ritual feast at the beginning of the holiday) at an off-campus house.
"I think it will be a really fun way to connect with a group of people I don't know super well over something we have in common," Spinelli said prior to the event.
Being away from family during an important holiday for the first time can feel sad. While Spinelli recognized this year's Passover felt a little different, she also appreciated having the opportunity to independently decide how she will celebrate Jewish holidays.
"Forming my own ways of celebrating outside of what my family usually guides is really nice," Spinelli said.
Sophomore Jonah Rosen-Bloom has also been exploring how he wants his relationship to Judaism to look now that he's away home. 
"I enjoyed finding my own ways to be Jewish at Whitman, and Passover was actually a really fun one because there were a ton of people all celebrating together," Rosen-Bloom said.
The Passover Seder that Rosen-Bloom and Spinelli attended is hosted by Kehilat Shalom, the Jewish affinity group on campus, every year. President of Kehilat Shalom and sophomore Naomi Presken explained that although a lot goes into planning the event, the biggest hurdle this year was "the wine fiasco."
"It's difficult to serve alcohol at a school event, even when it's for religious purposes. Adam Kirtley [the interfaith chaplain] is very helpful trying to figure it out with us because we explained how it's not some college kids wanting to get drunk and it is an important part of the tradition for a lot of people," Presken said.
Kirtley called the Washington Liquor and Cannabis Board to discuss if serving wine would be a possibility.
At Passover Seder, every attendant is supposed to have four glasses of wine, each one representing a different aspect of the holiday and its history. At the same time, an important part of the tradition is loosening up and celebrating. 
Another special portion of Passover is the eating of different foods, each with distinctive significance, assorted in a specific way and eaten in a specific order. 
"My favorite thing about Passover is the food aspect because it's a bunch of random foods I do not get to eat at other times of the year," Spinelli said. "The Seder I'm attending this year is a potluck, which I think is cool. It's cool to see what other people like to make and what traditions that they want to bring in."
An important aspect of Passover is exchanging traditions with new people, new friends.
"A lot of the time you don't really realize what's a family tradition until you have a Seder without your family," Rosen-Bloom said.
One unique tradition incorporated at Whitman's Seder included putting an orange on the Seder plate in recognition of LGBTQIA+ Jews and other identities who are often marginalized in the Jewish community.
Some students reported that finding everything that traditionally belongs on a Seder plate can be tricky in Walla Walla.
"I had a breakdown in Walmart the other day because I went shopping for my Passover week grocery list and couldn't find any matzah in Walla Walla," Presken said.
Rosen-Bloom also encountered this struggle, as he was excited to make his father's famous matzah ball soup. However, he could not find the ingredients. Despite there being certain limitations to fulfilling the food and drink aspects of Passover, Whitman's Jewish students have no problem fulfilling the connection, family and community aspects.
"Being able to sit down with people and have that feeling of togetherness is something I really appreciate about doing it with my family, so I'm excited that I get to do that here too," Spinelli said.
The togetherness Spinelli described is at the heart of Passover, through fostering shared traditions.
"Tradition is my favorite part, and I feel like it's fun because I'll forget all the stories and all the traditions until the next year when it happens. I [then] immediately remember everything and all the memories from when I was younger," Presken said.
Traditions can be powerful, and often even more appreciation is gained for them as we grow up. This Passover, Whitties enjoyed reminiscing about past Passovers while indulging in their four glasses of wine with friends old and new.
Source: Whitman Wire