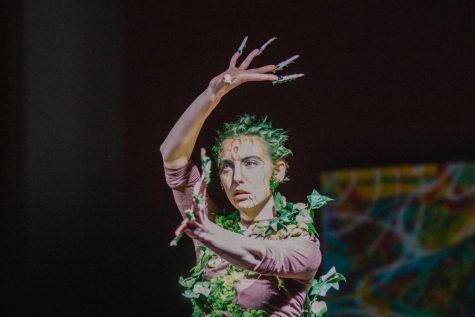 Dragtastica is a popular annual on-campus event featuring a drag competition. The show consists of dancing, singing and comedy. A number of students participated in the event, with all performers winning some sort of title by the end of the night. The event took place on Saturday, April 2 in the Reid Ballroom.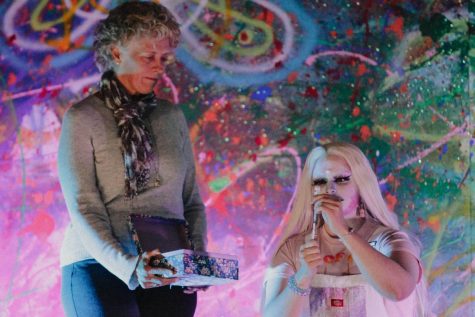 Dragtastica could not have occurred had it not been for the work of senior art major Lukas Zmuidzinas, who performed in the show as 'Princess Crow.' This week, The Wire sat down with Zmuidzinas to talk about what the event meant for him and everything that occurred at the show.
The Wire: What inspired you to want to perform in the art of drag?
LZ: Honestly, I had been thinking about what I wanted to do for my art thesis for a very long time. I'm usually a painter when it comes to art, but I dabble in a bunch of different mediums. But I've also been taking a bunch of gender studies classes while at Whitman, and I wanted to do something for my community and my thesis, so I decided to host a drag show. I had never been to a drag show, never performed in drag, so it was a completely new thing for me.
The Wire: What made you choose the drag name 'Princess Crow' for the show?
LZ: Crow was one of the names I chose for myself when I transitioned. I chose to use the name Crow because I am really connected to crows as animals. Last year about this time, I had this very vivid dream of this crow with a human face. I actually made a painting of it. But that was when I realized Crow would be my drag name, and I put Princess in front of it to make it more draggy.
The Wire: Before COVID-19, did you see Dragtastica? What inspired you to bring it back?
LZ: I knew there had been drag shows at Whitman, as well as Walla Walla in the past. But I also knew that they were pretty small, not a lot of people would show up, and when they did it was more of a party scene. So I decided when I was bringing Dragtastica back, I wanted it to be an actual event as well as a community event. I didn't want it to just be a Whitman thing because I think it's important to have safe queer spaces in this town, especially in a rural town like this. I wanted people of all ages to come.
The Wire: Favorite moment from the event?
LZ: The whole event was a favorite moment in my entire life. It was really a dream come true!
The Wire: What is your take on bills like "Don't Say Gay"? Do you think drag is a gateway to fixing the problem?
LZ: Kids need to see themselves represented in the world, not just in the media but in their schools and in their life. We've always had this narrative of cisgender heteronormative life in history. I didn't grow up having any queer representation, and I didn't know I could be transgender until I reached high school. Seeing someone else doing that and seeing someone be that supportive. Queerness is so freaking important for any kid to see.
The Wire: During the show, you had a very special moment with a guest. Can you tell us what happened? How special was it? 
LZ: I decided to take my T-shot [testosterone] on stage for the performance. I brought my mom on stage. It was terrifying because I had only ever done it in front of my mom and my partner. Doing it in front of 300 people was nerve-wracking to say the least. But having my mom there to support and to show everyone that I was being supported through this process was really calming and surprising, and I wasn't too nervous when I got on stage and pulled the needle out. Having my mom there just standing there and supporting me through this, it was a very special moment for me.
The Wire: Do you have a favorite Drag Queen?
LZ: One drag queen who really inspired me from RuPaul's Drag Race was Gottmik. Because he was the first trans-masculine drag performer to be on RuPaul's Drag Race. Seeing him perform, getting so close to winning and being so supported by all of the other queens and everyone who was supporting, that was really special to me. I love Bianca Del Rio; she's an absolute star. Naiomi Smalls is also another influential person.
The Wire: What advice would you give to Whitman students interested in performing in the art of drag someday?
LZ: Just do it, go for it. Even if you're just doing it at home experimenting with makeup, putting on heels. It doesn't matter as long as you are comfortable with what you are doing. You don't even have to go out and perform to do drag. You can do drag in your everyday life. Drag is so much more than being a king or queen, there's a whole spectrum of expression you can play around with.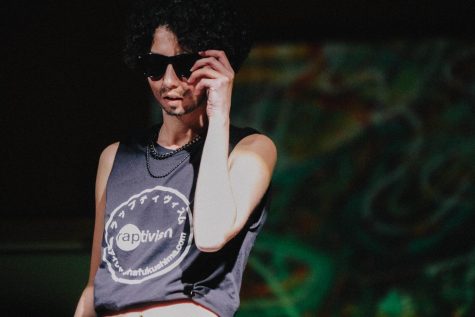 Source: Whitman Wire