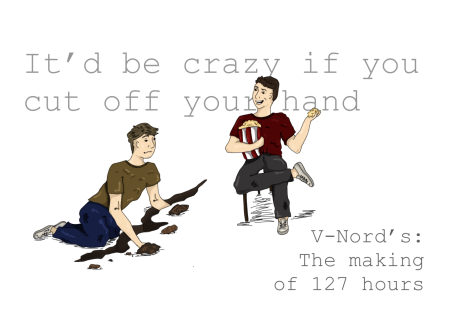 After a strong return to performances in the fall 2021 semester, the V-Nord improv group returned last Wednesday for their first performance of the spring semester. If you enjoy spontaneous comedy, a night of improv may just be up your alley.
Before performances could take place this year, however, new members were needed. Heading into the 2021-22 academic year, V-Nord had only three members. With a series of auditions at the beginning of the year, that number jumped up to eight.
"I was stoked," Junior Rohan Myers said, referring to when he learned he made the cut. "It was kind of a surprise too because [the existing members] said that they would discuss it that night and sent out results later. And then they showed up at my dorm, and they were like 'Congratulations!' So frankly a surprise, but a welcomed one for sure."
Myers transferred to Whitman from UC San Diego his sophomore year. He discovered improv his senior year of high school, and already enjoyed theatre in general. Having been a part of the improv group at UCSD his first year, Myers was eager to join Whitman's team.
"I just fell in love with improv," Myers said. "And after transferring here I was gonna gun for the improv group. So I emailed around asking the team when the next audition was. I auditioned and here I am."
First-year Nick Pecora grew up seeing the local improv performances with his mother and always found the performers hilarious. As with Myers, the existing members showed up at Pecora's room to inform him that he made the team.
"They knocked on my door really loudly," Pecora said. "It was already late at night and I was playing music and I was like 'My RA is definitely going to be mad at me' and that really set me on edge. But it was the other members and they came into the room and started hitting me with pillows. It was like five minutes of just screaming. I was confused but also realized I made the team."
When it comes to performing, both members shared a similar love for performing improv on stage to not only the audience but also the team members themselves.
"There's something about delivering a joke that you think is going to be funny," Myers said. "And then hear people laughing about it, it just makes you feel amazing."
Pecora does not suffer from stage fright; he embraces the moment and draws in energy from the audience.
"When I'm up there for the most part, I'm deaf to the audience," Pecora said. "Occasionally I'll say something, there's a pause, and I'll hear laughing. It's different than being in a scene. In that moment the only thing that matters to me is making the other members of the team laugh."
Senior Matthew Triplett, who has been on the team since his first year, was excited to build the team back up and work with new people.
"Everyone has a different style of comedy. It takes a little while to get used to a new team member because everyone brings something so unique to the table. But that's the beauty of it. Taking the time to learn about your teammates skills and building that chemistry is so rewarding," Triplett said. "Every new member brings a totally new dimension to V-Nord that we have never had before. Finding those new, beautiful dynamics is such a treat."
V-Nord usually performs in Olin Auditorium on a certain weeknight, with ample amounts of chalk writings across campus beforehand to notify students that they are performing. It is strongly suggested to arrive early, as seats get taken quickly. 
V-Nord's performance last Wednesday was a full house, overflowing with students. Unfortunately, it is a fire hazard to block the aisle so if you do not show up early to V-Nord's gig, you might have to come back later to get a seat. 
If you do manage to get a seat, you are in for a good show. V-Nord knows how to create raunchy jokes on the fly and have you and the lively audience laughing and clapping for more. So next time you happen to see chalk writings on the sidewalk, mark your calendars and prepare for a wild ride of improv.
Source: Whitman Wire