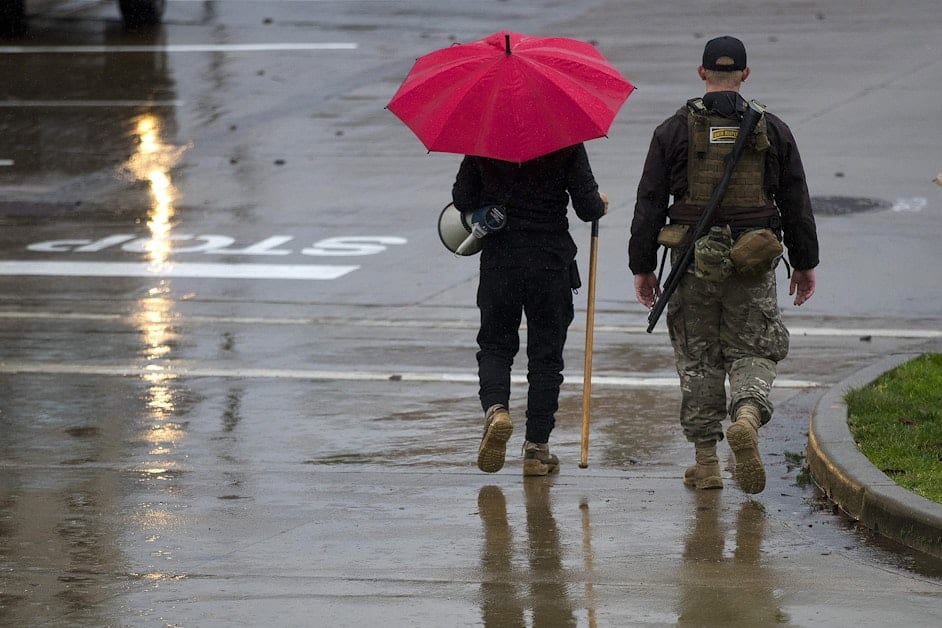 Source: Google News
Washington has three new firearm laws (and there are a lot more firearms in the state these days).
Who did MacKenzie Scott just donate to?
This post originally appeared in KUOW's Today So Far newsletter for March 24, 2022.
Washington state has three new firearm laws this week. And there are likely more residents in the state who these laws will affect than ever before.
Here's the gist of the new laws:
A ban on the sale of magazines that hold more than 10 rounds. Washington is the 10th state to do this. Gun owners can still own higher-capacity magazines; this law just bans the sale of them in the state. You're welcome, Idaho. This law goes into effect July 1.
Restrictions on "ghost guns." These are untraceable firearms that are often homemade, and therefore bypass background check requirements and other laws. The new law basically states that firearms, and their components, are required to have serial numbers. This goes into effect in 2023.
A ban on weapons at certain public places, like school board meetings or election facilities. This is in response to firearms showing up at protests and demonstrations. Washington is an "open carry" state, meaning that a person can visibly carry a gun in public (you need a permit if you conceal it). But the appearance of firearms at public proceedings has been viewed as intimidation, and a means of discouraging people from participating in their government.
Do you hear that? That's the sound of inevitable lawsuits loading up and aiming to shoot down these new firearm laws in court. That's generally how these laws play out: pass a bill, file a lawsuit, see what happens. Northwest News Network's Austin Jenkins reports that the Nevada-based Firearms Policy Coalition is already preparing to challenge the limit on magazines in court. However, they'll have to go up against Washington State Attorney General Bob Ferguson, who crafted the magazine-limit bill. Ferguson has a pretty strong track record, and given that he has been introducing and refining this bill since 2016, this should be an interesting legal battle to watch.
RELATED: Four Seattle liberals on why they own guns
In 2020, as the pandemic was shutting things down and demonstrations were emerging for racial justice, I noted the considerable spike in gun sales across the Seattle area. I tracked the number of background checks that police departments were running for firearm customers. In the first half of the year, Kirkland saw an increase of 145%. Redmond had an increase of 268%. In the first seven months of 2020, Seattle processed 9,426 background checks for gun sales; a 55% increase over the city's average for an entire year. Relative gun-buying spikes were seen across our region.
In non-firearm news, MacKenzie Scott just gave millions of dollars to hundreds of organizations and institutions whose causes she supports. One donation was $275 million to Planned Parenthood — the largest donation the organization has ever received.
When Scott divorced Amazon founder Jeff Bezos, she departed with a not-too-shabby share of Amazon wealth. Ever since, she has made it a priority to donate that money to various causes. She started in 2020 with donations to 116 organizations working on climate change, social justice, and more. This week, Scott updated followers that she has spent the last nine months donating nearly $3.9 billion to 465 non-profits — including a range of Boys and Girls Clubs, Habitat for Humanity branches, and a lot of Planned Parenthood locations.
"Our team's focus over these last nine months has included some new areas, but as always our aim has been to support the needs of underrepresented people from groups of all kinds," Scott said in a Medium post. "The cause of equity has no sides."
Read more here.
AS SEEN ON KUOW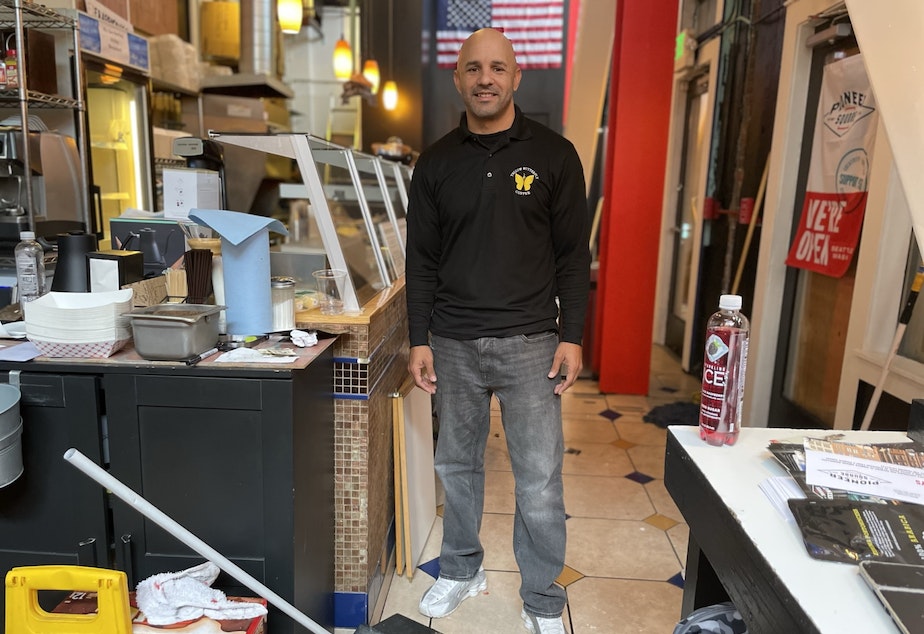 Robert Rodriguez is working behind boarded up windows in Pioneer Square, preparing to open his new business Yellow Butterfly Coffee. (Joshua McNichols / KUOW)
DID YOU KNOW?
Madeleine Albright passed away this week. She was the first female secretary of state (under President Bill Clinton) in U.S. history. One little fact about Albright ended up becoming so significant that she wrote an entire book about it — Read My Pins: Stories from a Diplomat's Jewel Box. You could often read Albright's attitude by checking out whatever pin she wore that day. Flowers or butterflies — things are going great. Turtles or crabs — diplomatic talks are slow. When Russians were found tapping the State Department, she wore a bug. After Saddam Hussein's government published a deriding poem that called her a "serpent," she put on a snake pin for talks with Iraq.
Perhaps that fashion sense is what once earned her a place on a list of the best dressed people over 50.
Pins are a pretty unique angle into an impressive political career. Perhaps one day we can look forward to other fashionable and political insights from Boots and Suits by George W. Bush, or Obama's Guide to Denim Jeans.
ALSO ON OUR MINDS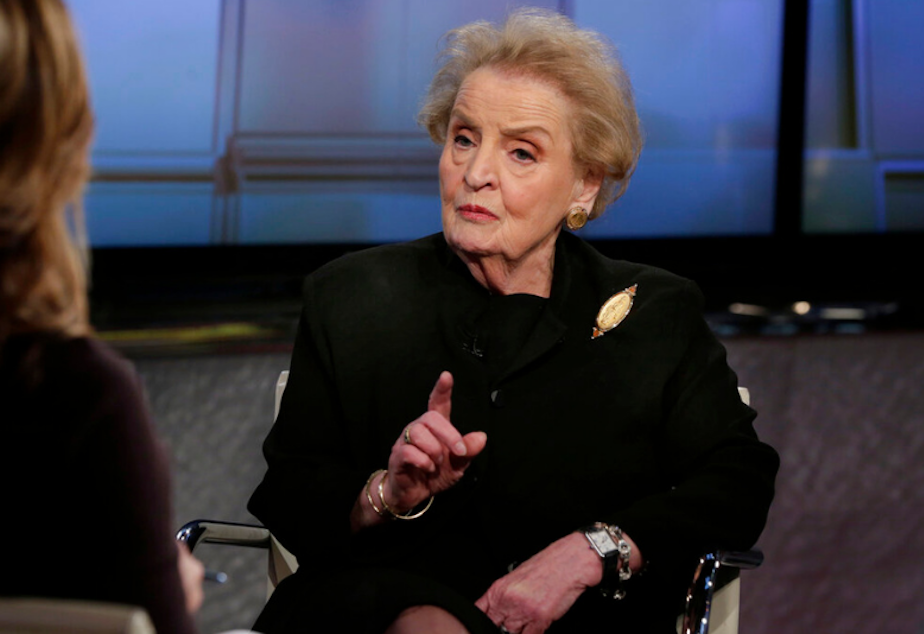 The gift Madeleine Albright leaves is showing us what's possible
Albright represented different things to different people. As a refugee who as a child fled with her family from post-World War II Europe to the United States, she represented the so-called "American Dream" of raising oneself up through education and hard work. To others, Albright's decades of public service proved a model for a person choosing to serve their country. And to so many, Albright was a feminist icon.
SUBSCRIBE TO TODAY SO FAR
Article Source: Mid-Columbia Insurance Agency