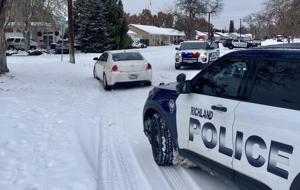 Source: NBC RightNow
RICHLAND, Wash.-
A man wanted by the FBI on federal narcotics trafficking charges has been arrested in Richland.
After observing the suspect get into a car West Richland Police (WRPD) tried to make a traffic stop. The suspect wouldn't stop and drove into Richland where pursuit was stopped in accordance with state law, according to the WRPD.
Richland Police (RPD) and the Benton County Sheriff's Office (BCSO) took over the search for the suspect's car in Richland. The car was located in the 1100 block of Acacia and the suspect was seen running away.
According to the RPD, the area was secured, a drone was deployed and the assistance of the Pasco Police K-9 unit was requested.
The K-9 tracked the suspect to a home on the 1200 block of Acacia and police surrounded the home. The suspect was arrested without further incident on a  federal warrant and on suspicion of felony eluding.
Article Source: Mid-Columbia Insurance Agency