This year's academic theme is "Climate Reckonings, Climate Justice," which aims to challenge the Whitman community to "respond meaningfully to this challenge at scales both small and large." One Whitman professor, in particular, has been focused on climate change in the Walla Walla Valley for years. 
Kevin Pogue, a professor of geology, has been working to address the effects of climate change on the wine industry and has become an expert on the subject, as well as a consultant for many local vineyards and agriculturalists. 
"I came to the realization that there wasn't a good, broad understanding of how climate, soils and geology was affecting viticulture here because we're kind of a new area," Pogue said. "I decided that I would do some research projects with students on trying to figure out how things like climate varied related to the topography, how soil chemistry varied from place to place and use that to help the wine industry."
Wine grapes are an extremely sensitive agricultural product, and the slightest change in environment can impact the terroir, or characteristic taste and appearance, of wine. Many well-known winemaking regions are now struggling with changing harvesting schedules, cold snaps and wildfires, while regions where previously wine grapes couldn't thrive or were less consistent, such as Southern England and parts of Germany, are producing high quality wines.
All of the impacts of climate change have forced planters to reconsider their practices, taking measures such as moving to higher elevations and finding alternative water sources.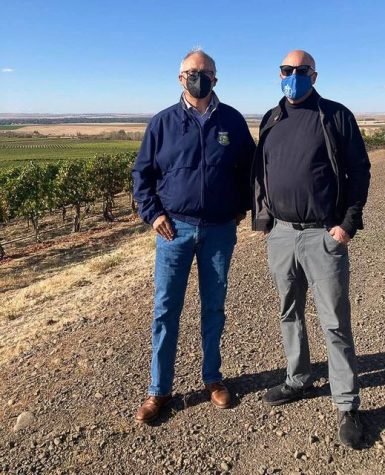 According to Pogue, the biggest concern for the Walla Walla Valley is the water supply. As snow melts are thawing faster in the spring, farmers in Eastern Washington have been overpumping agricultural wells, leaving many vineyards with reduced water supplies in the summer. 
Another concern is the safety of the people working in vineyards, especially given the increasingly high temperatures during harvesting seasons. This summer, Walla Walla saw incredibly hot weather, followed by extreme heat waves in early autumn, as well as poor air quality due to wildfires. 
"The human element is really important," Pogue said. "When it's 115 degrees outside, that's really tough on people. There needs to be a recognition that the labor force needs to be protected from the rigors of dealing with working in that environment."
Pogue recently met with Governor Jay Inslee during his visit to Walla Walla to discuss climate change and the wine industry, recognizing the area as a center of industry for Washington. Inslee, whose platform is strongly grounded in advocacy for environmental justice, was said to be receptive to the ideas discussed during his visit. 
Earlier this year, Inslee signed a series of legislation focused on addressing climate change, putting climate justice at the forefront of Washington's priorities. Washington also recently enacted a state-wide ban on single-use plastic bags, which came into effect on Oct. 1. 
According to Pogue, the best way to combat climate change from both an individual and governmental levels is to reduce carbon emissions, such as by switching to sustainable power sources rather than relying on fossil fuels. Whitman will also continue to host various discussions and talks related to this year's academic theme, where students can learn about various aspects of climate change. 
Source: Whitman Wire