If you walked through campus sometime between April 8 and April 9, you probably witnessed pure chaos. People were yelling at each other, sprinting back and forth and hucking discs through the air. Rumor even has it that many raw onions met their untimely demise.
The Whitman Sweets hosted its annual Onion Fest, continuing a long-standing tradition among the Pacific Northwest frisbee community. The event provided a unique athletic experience that seemed to be equal parts competition and leisure. Players and spectators alike enjoyed the excitement that the spectacle created. 
Junior Sweets player Ben Canty described the event and its significance.
"From the morning through the afternoon, there are games being played on pretty much every piece of grass that Whitman has," Canty said. "A lot of people have not really seen ultimate played and don't really know what it is, so it's a great time for the campus to get involved … It's kind of cool for the rest of campus to see it when we can host it here."
The highly anticipated event brings teams together from all over the region, along with alumni and community members.
Senior Tanner Filion spoke to the atmosphere created by the event and its participants.
"It's more of a lighthearted tournament. [It's] not super competitive, [it's] more about the spirit of the game," Filion said. "Just a great chance to play teams from all over the Northwest."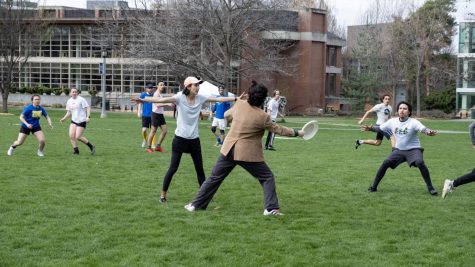 The vibe of the tournament seems to be a perfect representation of how the Sweets conduct themselves year-round.
Senior and Sweets captain Luke Patrick spoke to the Whitman Sweets' team culture.
"We do take frisbee seriously, but we also have fun. We prioritize making sure that everyone understands and loves the game," Patrick said. "It's not a big commitment compared to a varsity sport, but we want to make sure that we have fun and put out a good product."
Filion echoed this point, explaining what he appreciates about the team.
"Something I really value about the Sweets is the inclusivity and more of a relaxed vibe. [We] definitely [place] a huge emphasis on having fun," Filion said.
Canty further spoke to the team's emphasis on inclusivity and the opportunity that it can provide for new members.
"Feel free to come check it out. If anyone's ever interested, it's a lot easier to start. I started frisbee when I came to Whitman, and I now play pretty consistently because I've practiced with the team a lot," Canty said. "There's a lot of people who are afraid or have played frisbee in middle school and never actually wanted to give it a chance. They can definitely come out."
If you are intrigued by Onion Fest and want to give ultimate frisbee a shot, stop by Ankeny Field and check out one of the Sweets' practices. The Sweets hold practice on Mondays and Wednesdays from 4:20 p.m. to 6:20 p.m. and Saturdays from 10 a.m. to 12 p.m.
Source: Whitman Wire