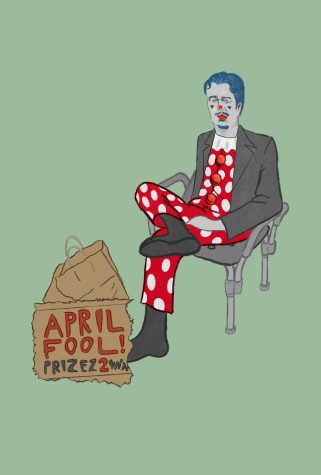 In an event that got moderate YikYak attention, the April Fool, for whom the day was named, sat on Whitman's own Ankeny Field on March 31. The April Fool gave out prizes, including loose grass and razors, for doing tricks. This was widely regarded as confusing. A Wire humor writer, Fool patron and deeply anxious individual, was able to secure him for his first ever interview.
The Wire: Hello, thanks for coming. First off, why?
AF: You know, I like to think of myself as a sort of Gandhi for the modern age: if Gandhi gave out prizes and was a clown. And was also hot. I mean, the babes love me. Guys, too, you know. 
Wire: … I meant, "why did you sit on Ankeny and give out prizes?"
AF: Oh, you paid me.
Wire: No, I mean – can you not bring that up? Like, we're supposed to be impartial and it looks really bad if people find out I paid for this. I could lose my job.
AF: I mean, I guess, but you're writing it down right now.
Wire: That's – look, I'll remember to edit it out, okay? I'm not stupid. So why Ankeny, why then?
AF: Well, duh, it was April Fool's Day. I was giving out prizes to celebrate my day.
Wire: That Friday was March 31st. It wasn't-
AF: I think I'd know what day was mine. I may not have your fancy-schmancy education or a second-grade reading level, but I think I know when my month is. 
Wire: Initial supporters were told that this was going to be a pretty expensive affair. Some people even gave hundreds of dollars and let you live in their dorm for two-and-a-half weeks, but you just sat there for two hours and then left. 
AF: Prize… cost.
Wire: You gave out grass, fifty dollars and a cough drop. You didn't even bring the cough drop. 
AF: Woah, look at the time. Looks like I need to go.
Source: Whitman Wire