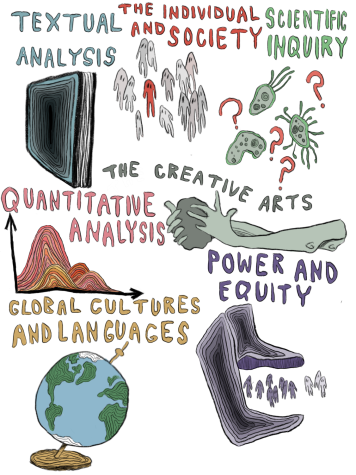 A new proposal for the General Studies Program has been put forth, potentially changing the structure of distribution requirements at Whitman. The idea for a new program began in 2017 and was meant to go to a vote in 2020, but was canceled due to disruptions from COVID-19. In the fall of 2021, the General Studies Committee took up the project again.
The current distribution requirements are cultural pluralism, fine arts, humanities, quantitative analysis, sciences and social sciences, each with varying credit requirements. If the proposal passes, the requirements will change to three credits each in textual analysis, the individual and society, scientific inquiry, quantitative analysis, the creative arts, global cultures and languages and power and equity. 
First-year Elle Palmer is one of the student representatives for the committee. As a representative, she met faculty and committee members to develop the proposal and represented student interests. 
"I'm most looking forward to the increased agency students will have over their undergraduate experience. The reduced number of credits required across disciplines allows for increased flexibility, so it will become more feasible for students to double major or minor, or simply explore outside of their intended fields of study," Palmer said. "I'm also pleased to see the addition of the 'Power and Equity' category, which makes engaging with issues relating to diversity, inequality and inclusivity a mandatory part of our educational experience. Although I believe how we conduct ourselves outside of the classroom is ultimately more important when it comes to power and equity, and it feels cursory given the breadth of issues facing the global community, it's still crucial to engage in critical study of these subjects."
The revised program will go to a vote on April 14. If it passes, the committee has reserved a year for careful implementation of the plan, which will officially begin in the fall of 2023. Chair of the General Studies Committee and Associate Professor of English Adam Gordon coordinated the creation of the new proposal. 
"[Surveys] indicated that Whitman students were falling behind peer institutions in their understanding of the skills developed through the required courses of the General Studies program. Faculty also had concerns about gaps in the existing program and felt an overall need to improve and update it," Gordon said. "There was a desire for a new program that was clearer than the current one and that students understood and felt enthusiasm for." 
The General Education Working Group began the process in 2017 by gathering data through surveys, roundtables, comparison studies of peer institutions and academic conferences. This work was later revised by the current General Studies Committee due to changes from COVID-19 and the financial sustainability review (FSR). 
"The program balances freedom to pursue paths unique to each student with common requirements that express our beliefs about the value of a liberal arts education: that curiosity makes us not only better learners but better members of our communities; that diverse perspectives are essential for solving complex problems; and that education is a site for addressing issues of power and privilege," the new proposal reads. 
"The new proposal seeks to address the gap in sophomore and junior enrollment in writing-focused classes, which has been a concern for both students and faculty. Many students have felt underprepared for the rigor of thesis composition in their senior years, and haven't received training in college-level [writing] since their First Year Seminars. We sought to address this in the 'Writing Across Contexts' category," Palmer said.
The General Studies Committee worked closely with faculty to develop the program proposal, aiming to strike a balance between those who want more requirements to ensure breadth of student learning and those who want fewer requirements to allow for student autonomy. They have also worked to ensure that the new model can adequately support current faculty and course offerings.
"We hope it proves energizing to faculty and students alike, so that students don't just feel like they're checking boxes. Rather, we want the distribution requirements to be clear and compelling, a part of each student's education that they look forward to completing, guiding them as they explore the full range of Whitman's educational opportunities," Gordon said.
Source: Whitman Wire