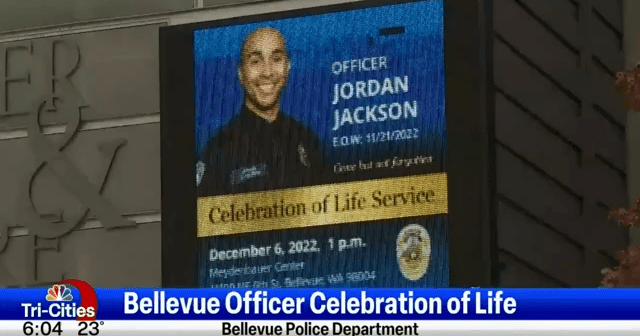 Source: NBC RightNow
BELLEVUE, Wash. — Slain Bellevue Police Officer Jordan Jackson was honored during a procession and memorial service Tuesday.
Jackson was killed in a motorcycle crash in November.
"If you were lucky enough to be part of his world, he was the sun shining on you," said Bellevue Police Department (BPD) Sgt. Robin Peacey in delivering Jackson's eulogy.
The memorial service was held at 1 p.m. at the Meydenbauer Center. The service was open to the public.
Jackson's partner, Officer Kevin Bereta, who was joined on stage with the entire Bellevue police motor unit, spoke about how grateful he was to work alongside Jackson.
"I was honored that a man like Jordan could be my best friend. He inspired me daily, and he made me a better person," Bereta said.
Jackson's cousin, Erik Taylor, reflected on how much he valued their time together growing up.
"Of all the many things Jordan was so great at, being a loving and devoted husband, father, brother and son was where he excelled the most. Of all the many reasons I aspired to be like Jordan when I was a kid, that is why I will aspire to be like him for the rest of my life," Taylor said.
After Jackson's colleagues, family and friends remembered him, Gov. Jay Inslee presented a flag to his family.
Before the memorial, people lined the streets of Bellevue to show their support for Jackson's family during a procession. 
The procession began at 11:15 a.m. at 148th Avenue SE and SE 16th Street in Bellevue and ended at the Meydenbauer Center on NE 6th Street.
Jackson was driving northbound riding his department motorcycle on Bellevue Way on Monday, Nov. 21 when he struck a car pulling out of a parking lot and onto the roadway, according to BPD Captain Landon Barnwell. 
Jackson was taken to Harborview Medical Center, where he later died from his injuries. No one in the other vehicle was injured.
Jackson leaves behind a wife and two young children. Jackson was born in Spokane and grew up in Bellevue. He graduated from Issaquah High School and Central Washington University. He worked for the Bellevue Police Department since 2018.  
Jackson's death is the first line of duty death for the Bellevue Police Department in its 69-year history. 
The Bellevue Police Foundation set up a memorial fund that will directly support Jackson's wife and two young children. Donations can be made here.
Article Source: Mid-Columbia Insurance Agency